Jurassic World: Dominion Dominates Fandom Wikis - The Loop
Play Sound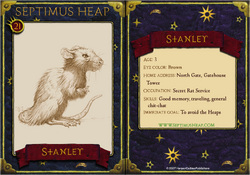 Stanley is a Message Rat serving the Message Rat Service of the Castle.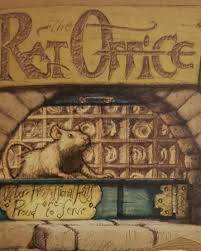 Biography
Encountering the Heaps
His association with the Heaps began when he was sent by Sarah Heap to give a message to Silas Heap in the Marram Marshes. Stanley was successful in delivering the message, but in the process became entangled in the adventures of Septimus Heap and his friends. He was later entrapped by heavies installed in the Message Rat Office by DomDaniel and ordered to dellver another message, but not before being stripped of his coveted Chartered Confidential status and reassigned under the name Rat 101. Stanley's new message was a trap, intended to ferret out the location of Princess Jenna and the ex-ExtraOrdinary Wizard Marcia Overstrand, but after being greatly delayed in delivering the message, Stanley refused to provide any information and was imprisoned. This led to his separation from his wife Dawnie, who went to live with her sister.[1]
Parenthood
Stanley later adopted four baby ratlets, Florence, Morris, Robert and Josephine, known to all but him as "Flo," "Morris," "Bo" and "Jo"[2] and originally given the names Sydney, Lydia, Edward and Faith.[3][4]
Stanley worked to re-estabish the Message Rat Service in the Castle and had his pick of rats following the Castle's becoming a cat-free zone upon the eradication of the Darke Domaine. He began training up his children to become Message Rats.[5]
Seven years later, Stanley was a very elderly rat. He had ceded most of the managerial duties of the service to his children, but still possessed a determined spirit.[6]
References