The Heap family is an ancient Wizard tribe whose current generations live in The Castle. They are notable of being the main characters in the Septimus Heap series, and their seventh son, Septimus Heap, is the protagonist of each book sometimes along with his adopted sister, Jenna Heap (the Princess).
The father of the family is Silas Heap, whose wife and mother of his children is Sarah Heap. Their seven sons are Simon, Sam, twins Edd and Erik, Jo-jo, Nicko and Septimus. The family also adopted Jenna Heap.
History
The family initially was seemingly broken apart,[1][2] since Sam, Edd, Erik and Jo-Jo moved to forest, Nicko was trapped in the past and Simon betrayed everyone by accepting an Apprenticeship to DomDaniel. However, Nicko was reunited with his family,[3] and Simon was then ReNewed.[4] The younger boys, Edd, Erik, and Jo-Jo grew somewhat lazy in the forest but Sam remained aware and even helped Septimus and Jenna.[5] The family was completely united for some time.[6] Sam was the only one to return to the Forest after the events of the final book.[7] Simon accepted an Apprenticeship to Marcellus Pye, Sam returned to the Forest with Wolf Boy, Edd and Erik accepted apprenticeships at the Wizard Tower, Jo-Jo got a job at Gothyk Grotto, Nicko finished his apprenticeship with Jannit Maarten, Septimus continued and completed his apprenticeship with Marcia Overstrand and Jenna was crowned Queen.[8]
The Heap family tree
Note that this diagram shows only the latest two generations, plus Sarah's background and Jenna's.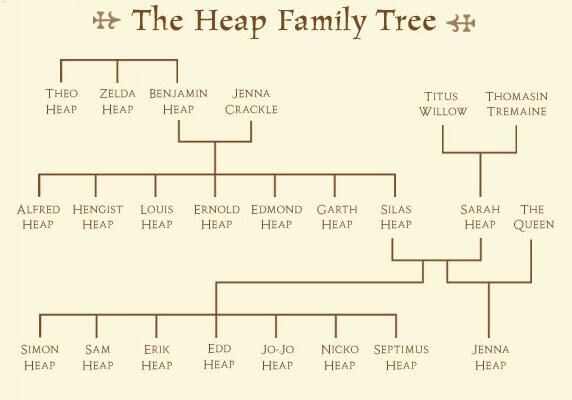 References