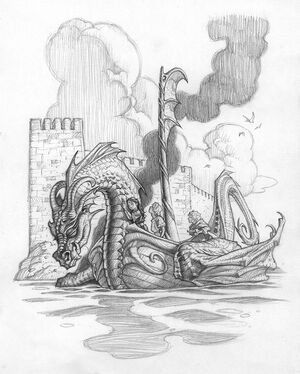 The Dragon Boat was once a living dragon, until she turned herself into a boat so the Dragon Master, Hotep-Ra could flee a hostile country. Such a transformation can only be done once. She was harmed, however, and Hotep-Ra brought her to the Port to be repaired, which was a mistake. The Port boat builders do very shoddy work. After Hotep-Ra healed the Queen's daughter, the Queen assigned some Castle boat builders to work on the Dragon Boat. They managed to restore her to her former beauty and health, but Hotep-Ra never saw her as such. He had retreated to the House of Foryx some years before then. The Dragon Boat lay underground for many years until she was released by the second Dragon Master, Septimus Heap.
The Current State of the Dragon Boat
After being hit by a ThunderFlash thrown by Simon Heap, the Dragon Boat sunk to the bottom of the Moat. She was brought back to the surface by Jannit Maarten, Rupert Gringe, and Nicko Heap. Princess Jenna, Septimus Heap, and Aunt Zelda then performed the Transubstantiate Triple in an attempt to Revive her. They managed to get her out of danger of dying, but the Dragon Boat did not regain consciousness. Jenna later discovered that they were missing a crucial part, which she found in Keeper's Cottage in a time 500 years in the past. It is mentioned many times after that, and is finally fixed in Fyre with the help of Marcellus Pye.
Connection with the Queens
Ever since Hotep-Ra first showed the Dragon Boat to the Queen and her young daughters, they have visited every year on MidSummer's Day. Through the years, the Queens have forgotten exactly why they visit the Dragon Boat, but they continue to anyway. The Keeper's Cottage was built on Draggen Island in the Marram Marshes as a place for the Queen and her servants to stay while visiting the Dragon Boat.